21 July 2021
Success Stories: Pedro Araújo (Vinte Vinte | World of Wine)
Updated: 21 July 2021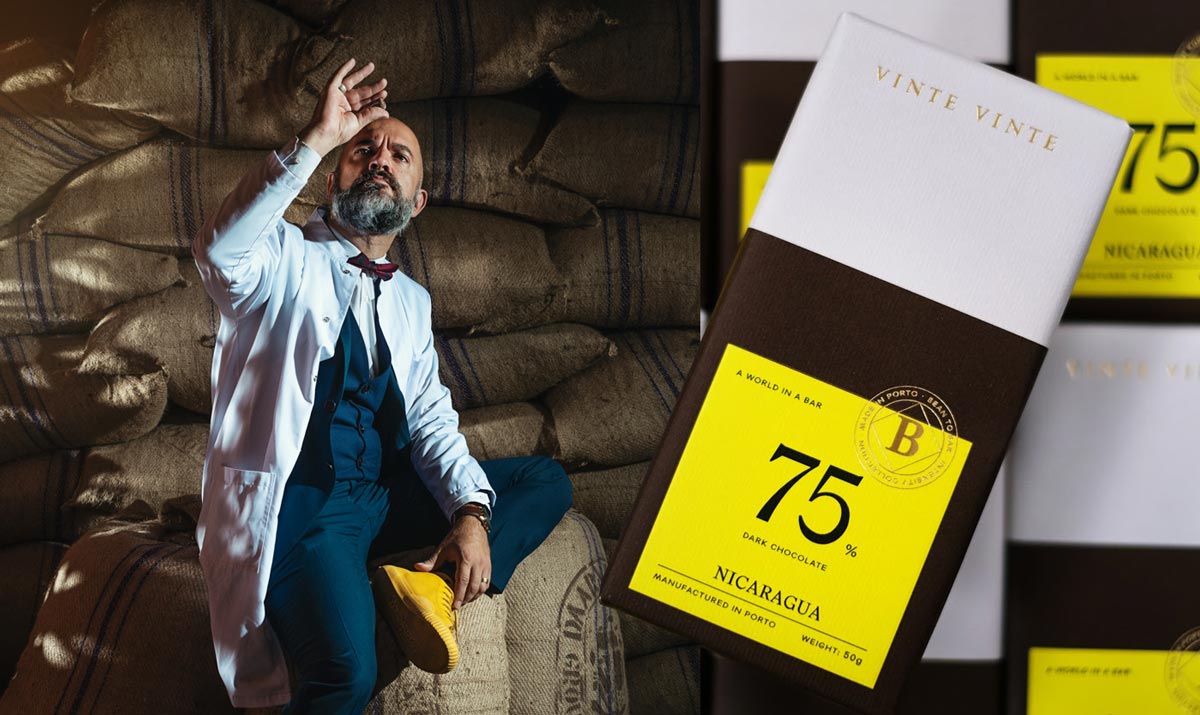 International travel and commerce have been restricted for over a year-and-a-half now. And yet, hotelier, visionary and art lover, Adrian Bridge was brave enough to launch the biggest tourism project in Europe of all of last year (2020), in the heart of Porto: World of Wine. "A collection of experiences" in the form of 6 museums, restaurants and retail shops brought together under a single roof. Namely, 300-year old warehouses that were once used for bottling port. At World of Wine, visitors get to learn about the wine, culinary art and culture of Portugal.
Perhaps the highlight of World of Wine (WOW) is the chocolate museum, 'The Chocolate Story'. On this experience, visitors get to explore the world of chocolate! The WOW chocolate factory shows the entire process close-up: from bean to wrapped chocolate bar. Afterwards, visitors get to enjoy a range of delicious chocolate creations at the chocolate café.
The chocolate is produced under the project's very own chocolate label, 'Vinte Vinte'. This unusual name translates as 'Twenty Twenty', referring to the geographical location of the so-called cocoa belt: twenty degrees North and twenty degrees South of the equator. Director and master chocolatier, Pedro Araújo - also known as Dr Bean - is in charge of both the production of the chocolate and the management of The Chocolate Story. Araújo travelled all over the world to educate himself on the cultivation, harvesting and processing of cocoa. Having successfully completed his mission, the master chocolatier returned home with the perfect bean-to-bar recipe in his suitcase.
What is your signature chocolate bar? And how is it wrapped?
Mine would be the 75% Nicaragua dark chocolate that forms part of the Cacao Intensity Collection. It is a bar made from cocoa from a plantation in Northern Nicaragua that I visited on my world tour in search of information for the chocolate museum. The farmers at this plantation do a tremendous job. They ferment the beans well and consistently produce cocoa of high quality. Our ambition is in fact to visit each of the plantations we import ingredients from in turn.
The chocolate bar is wrapped using the Lareka BTB25 in gold-printed paper foil laminate, with a rather thick paper label. Each of the four collections has its own design that reflects the composition of the chocolate. The collections and their packaging can be viewed on our website.
What bar has the most beautiful packaging?
Honestly... And not just because it's our own product! But I'm a real fan of our Fusion Collection packaging. I've been in this business for a while now. And through the years, have seen all kinds of packaging come and go. So many, in fact, that I decided to collect them.
Why the Fusion Collection? The packaging in this collection is innovative, fresh, fun and really colourful. My favourite of them is the chilli bar. Packaging like this really makes all the difference. All our packaging is designed by a Portuguese firm that we've been working with for years now, and we're still extremely happy with them. They've really helped us establish a strong, stand-out brand.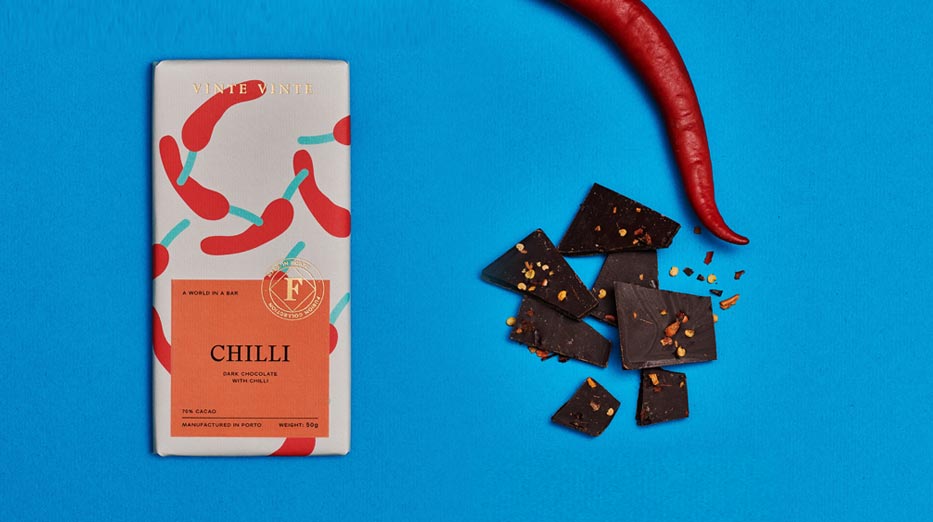 How does Vinte Vinte (WOW) approach sustainability and sustainable production?
Sustainability is paramount throughout WOW. I focus primarily on sustainable trade and promoting trading direct. We try to explain to visitors to The Chocolate Story the importance of trading with the cocoa farmers direct. And enable them to understand why our chocolate has a high price point: we pay the farmers we work with the price that they ask for their cocoa... Not the supposed market price, or a bulk price. That price is almost three times that of the cocoa used in 'standard' supermarket chocolate.
Plus, we are of course a bean-to-bar brand. Our entire production process is artisan. So the chocolate is not produced solely by industrial means. The price and quality of our ingredients, combined with the artisan production process make for a relatively high retail price. That's why we need to convince visitors that this high price is actually a fair price.
For a long time, my stance on this was pretty soft and optimistic. But I've since come to believe that the most efficient way of getting the message across and raising awareness is to make people feel accountable for their own consumer behaviour. Because: do you really think you are paying a 'fair' price for your chocolate if you are paying a euro for 100g of chocolate? If you, the consumer, are paying so little for your chocolate, it means that someone else in the chain is being exploited. And no prizes for guessing who that might be. Cocoa farmers are being exploited and (child) labour is a thing - not least on the cocoa plantations. Once you have this knowledge, the choice becomes quite simple: if you don't want to take part in this form of exploitation, then stop buying cheap chocolate off multinationals and buy 'fair'. I'd say this is the most important message that I want to pass on to visitors to the tour.
What changes has the BTB25 brought about within Vinte Vinte (WOW)?
To be truthful, the BTB25 hasn't brought about any real changes. Why? Because it's all we've ever known, haha... We skipped the manual wrapping stage. We bought the machine before the first bar had even been wrapped.
I first saw the BTB25 at Chocoa in Amsterdam, and was instantly taken by the range of formats the machine can accommodate. In our range, we have products varying between 50g, 25g, 9g and 6g. The BTB25 offers us a packaging solution that can wrap the whole range. And I didn't even spend any time after that looking for alternatives - I just knew it was the right machine. Besides the formatting scope, I also loved the machine because of its size. We don't have much space in our factory, and the BTB25 is very compact. We are happy to have found a machine that meets our product range and facility, perfectly.